Camping near the Ria d'Étel
Discover the Ria d'Étel from the campsite
Menhirs and Dolmens
When we talk about megaliths in the Morbihan, we obviously think of the alignments near our campsite in Carnacor theisland of Gavrinis, but the territory of the Community of Communes of the Ria d'Etel also conceals numerous megalithic treasures. Alignments of menhirs and dolmens dot our territory.
The site of Kerzerho is part of a "Great Megalithic Arch" which extends into the neighboring town of Plouharnel.
More than 1,000 standing stones have been counted on this "Great Arch". A two-hour walking tour allows you to approach them.
By staying in our camping near ÉtelYou will see the alignments and the Giants of Kerzhéro, the menhirs of Kerjean, the dolmen of Mané-Bras, the menhirs of Coët-er-Bleïi, the dolmen of Mané-Croch as well as the one of Crucuno, of which the monolithic stone at the top (60 tons) would be the most important known.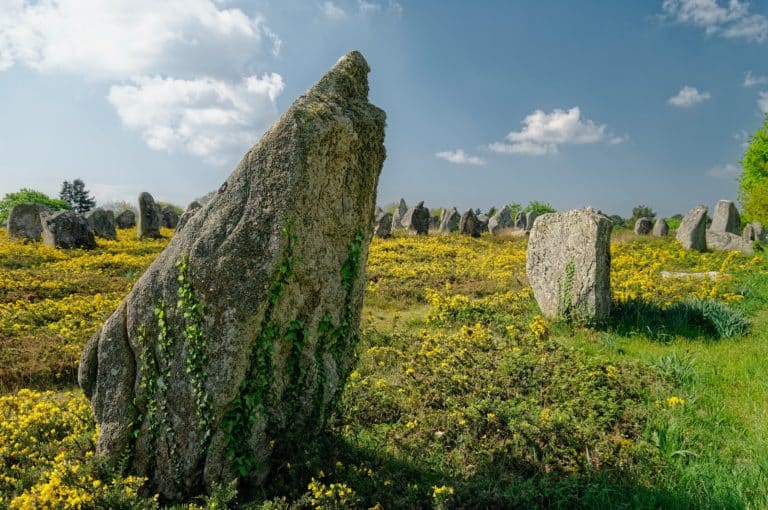 The Ria d'Étel is full of natural, cultural and historical treasures. Discover Étel near the Loperhet campsite…
Savor the oysters of the Ria d'Étel just a few steps from the campsite
The Ria d'Étel is a production basin that is often overlooked. It is home to an oyster that will surprise you with its finesse and taste, which vary depending on the location of the oyster beds upstream or downstream of the Ria.
On the Ria d'Étel, there are 75 conchilycoles, most of them family businesses, which combine traditional knowledge and modern techniques to produce 3000 tons per year of oysters of a great gustatory quality.
The oyster is the image of the Ria: a lot of character, sweetness and passion. Its shell is smooth, very regular and of rather round shape. Firm and fleshy, full of marine flavors, it achieves a clever balance, a delight for delicate palates.
Queens of the Ria, flat or hollow oysters are the pride of the oyster farmers who will be delighted to let you taste their local production during your stay in a campsite near Étel.